Virtual Camp Meeting - Remember, camp meeting starts tonight at 6:30 and continues through Saturday! To see the full schedule and watch online, go to: imsda.org/campmeeting/
Resters New Home - We prayerfully made the commitment to put down roots and purchase a home. We are further north to be closer to Sunnydale Academy, and look forward to having you all to our home once we are settled in.
No Church Service This Sabbath - Members are encouraged to worship by viewing the Virtual Camp Meeting.
Church Capacity Increase: Boone County now allows us to have 50% capacity for church service - which is around 120+ in attendance and we will be back at church June 13 - after camp meeting. We continue to support the decisions of all who feel the need to remain home.
_____________________________________________________________________________________________________________________________________________________________________________________
Previously on One-Minute Update....
Church & SS: For the remainder of the month we plan to meet as we did last week. After that, we may re-evaluate. We continue to have one adult SS class in the sanctuary (no children's SS) at 10 am, followed by church at 10:45. Those who feel the need to shelter in place should continue to do so. But please know we are thinking of you
From Andrew Grey: "Hey church family. For those who have been watching the live stream church service each week. Please consider giving it a thumbs up!  This does more than express your positive regard. It also increases the chance that people will see the live stream listed and possibly watch it. (At least this is my understanding)"
Congratulations To All Our Graduates! We have cards ready at church tomorrow (for those who are there). We are so proud of and thankful for each one. Please let us know if you are aware of others!
Photo Ministry Launching: We have noticed a need for more pictures from our service and church activities. James Simelus has consented to lead out and organize this for us. If you are willing take pictures for a Sabbath every 4-6 weeks, please let James know. He can be reached by phone at 573.639.0614 or by email: jsimelus@me.com
Church Service Plans For May 9:   First, if you feel the need to remain sheltered-in-place please do not attend. Both Sabbath School and Church Service will be live streamed, as we have done over the past several weeks.
We will have only 1 Sabbath School class this week. It will begin 10:00 am and is an adult class in the Sanctuary. 
Church starts at 10:45 am. The aisles will be widened and every other row is to remain empty. The basement door will be our entrance and the foyer door will be our exit (handicapped exceptions will be made). There will not be a bulletin. Tithes and offering will continue to be accepted online or by mail, and may also be dropped in the prayer box in the foyer.
Words of Thanks: "I want to thank the church for for the beautiful pot of annual flowers for our porch.  Losing a loved one is always difficult, but I am grateful for a supportive church family." ~ Joe Parmele
Death in Parmele Family: We are saddened to let you know that Joe's dad, Earl Parmele, passed away on Saturday at age 100. Please keep Joe and his family in your prayers during this time of grief.
One Call Church Service Poll:  Tomorrow you will receive a One Call Now "poll."  You will be asked if you plan to return to church this coming week, should we have service. You can then press "1" for yes or "2" for no. 
You will have to answer the call to participate, as this feature won't work from your voicemail. This information will assist the elders and church board in determining if we need to plan for more than one church service, as social distancing requirements only allow us to have approximately 60 persons in the sanctuary at a time. 
*It is my personal opinion our elderly and anyone immunocompromised should seriously consider continuing to 'shelter in place.' I have strongly advised my own father to continue to do so.
Blessings Pantry:  Many thanks to Joe, Pat, and Dale for our Blessings Pantry at the church (a picture is attached). This is a tangible way to help meet a real and practical need in the community. You may add food items to it at any time and if you need something, by all means make use of it.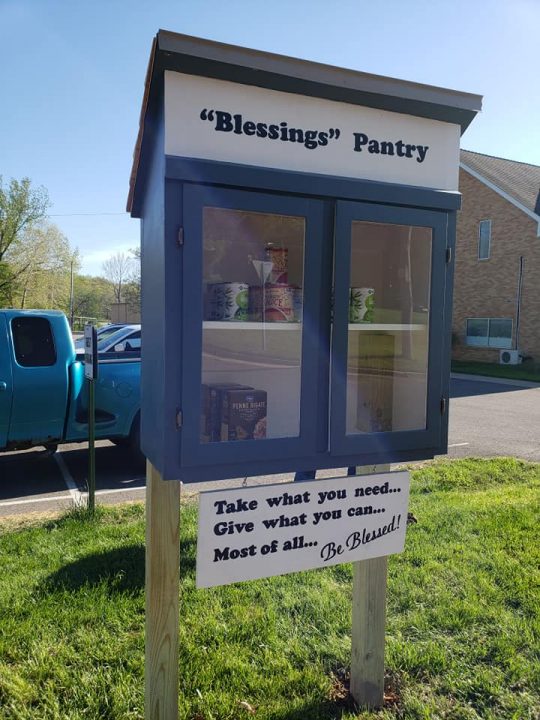 Thanking Our Medical Personnel: 
 We are looking to acknowledge and thank those of our church family who have been serving in all facets and ares of the medical field during this ongoing COVID-19 crisis. We want to make sure no one gets overlooked so please send the names of all you can think of to 
pauletta.berry@gmail.com
.
Facebook Hour Of Prayer Friday Evening:   Join us for an hour of prayer to bring in the Sabbath this Friday at 7:03 pm. Please post prayer requests and respond to prayer requests on the church Facebook page.
Nature Hike This Sabbath:   You are invited to an informal hike at Rock Bridge state park this Saturday afternoon at 2 pm. Take pictures of your hike and post them to the church Facebook page. You will likely see others from our church family there. Remember to social distance.
Restarting Church Meetings:   We may start to meet again (for those who are comfortable doing so) as soon as May 9. The elders have discussed a two-service option to allow us to properly social distance according to the city's requirements. If we understand the requirements correctly, we can have up to 25% of our capacity in attendance, which is about 60 persons. The elders will have this processed with the church board soon and we will get you more information and details next week. Live stream will continue for those who feel they need to continue to shelter in place.
Newsletters: There are two newsletters I suggest you sign up for:
-
The North American Division Newsletter
has news and information from the Adventist church across North America. Click the word "subscribe" in the middle of the brown box at the bottom of the page.
One Minute Update Purpose: The One-Minute Update is a tool to provide news & information in a concise and easy format. It is designed for items that have not yet been included, rather than reoccurring announcements. That way, you can always know its worth one-minute of your time, with no repeats. It goes out on an as-needed basis. 
Sharing Opportunity:
You can share the prophecy seminar videos with your friends and family: 
studyrevelation.com/videos
. The first message is very applicable for current issues, as it is about signs of the times. Encourage folk to watch these in order.
Church Facebook Page:
We are improving communication in many areas! One that can be very helpful is our
church facebook page
. Thanks to Heather F. for overseeing that page. We are grateful for the regular updates. Go follow / like the page, so that you will see reminders and information posted.
Sabbath School Stream:
Do you miss Sabbath School class? This coming Sabbath, April 4, we will stream an Adult SS at 10. Use the link on our website for the church service. Just log on earlier!  
https://www.columbiasdachurch.com/
Sabbath School Quarterly Pick-up:
Joe Parmele will be at the church from 4-5 tomorrow (Friday, April 3) so you can pick up a quarterly if you like.  The quarterly is also available
online
.
Prayer Care: We are a church that prays for each other. Use your church directory to pray for people by name. 
March 29-April 4 Families A-B
April 5-11 Families- C
April 12-18 Families D
April 19-25 Families E-G
April 26-May 2 Families H
Member Care: Do you have a need or need any assistance? Let Pastor Hiram know:  (417) 848-7650
Okay, so maybe a two-minute update this week ... :)
Church Online This Sabbath: Please join us as we live stream our worship service this Sabbath at 10:45 am. Sorry, it is only available online. Here is the link: https://www.columbiasdachurch.com/sermons-live-sat-1045am
Sabbath School: Would you like to go through your SS lesson or take your kids through theirs? If so, you can get the lessons online. Here is the link: https://ssnet.org/
How To Give: Some members have asked how to return tithes and give offerings with church not meeting. You can do so online at this link: Columbia SDA Giving. You may also mail checks to: 1100 College Park Dr., Columbia, MO 65203
A Way To Help Out: We have received a request to make masks for local nursing homes here in Columbia to help prevent the spread of COVID-19. If you wish to help with this urgent need please reach out to Bev Christianson. (573) 447-3277.
Death In Erickson Family: After battling illness for some time, James Erickson passed away Monday morning. James is the father of Doug and Daniel Erickson and brother of Walt Erickson. The family has decided to wait until after COVID-19 social distancing to hold a memorial service. We will give you more details when they become available. Please join us in praying for the Erickson family.
One Call Service and Email List: We are beefing up our One Call Now service and email database to keep better connected during this time of social distancing. If you would like a phone number or email address added please reply to this email with the information.
Re-Unite Via Zoom: We will continue our two Zoom classes and add a new one starting this coming Wednesday evening, April 1 at 6pm. You will need to have your own book to participate. Links are below for the books and Zoom:
             -Zoom Link Class: How to Win Friends and Influence People
              led by Pauletta Berry: Available in print and Kindle Print Version  / Kindle Version
             -Zoom Link Class: The Blue Zones 2nd Ed.  
              led by Peter Sutter: Available in print and Kindle The Blue Zones 2nd Ed.
            -Zoom Link Class: Experiencing God
               new class led by Pastor Hiram: Available in print and Kindle Experiencing God - Revised & Expanded
*You can make sure Zoom video and sound are both working on your phone or computer at any time by using this test link: https://zoom.us/test
Hiram Rester | Pastor, Columbia and Boonville, MO
Columbia Seventh-day Adventist Church: www.columbiasdachurch.com
Iowa-Missouri Conference: https://imsda.org
417-848-7650 | SabbathRester@gmail.com
 
P.S. - If you need any help or supplies call or text me directly: (417) 848-7650
-Send prayer requests to Pauletta: (573) 999-6811
-Please use your church directories to check on each other regularly.